As part of the RSA:New Contemporaries I organized The Onion Procession for March 11, 2014. It is a continuation of my research into new forms of performance documentation. For the exhibition I presented seven new sculptures that were reliquaries of performances done while studying at DJCAD. The procession is part of reliquary tradition – we brought out the Onion Cellar sculpture and reenacted the original performance in the Princes Street Gardens. The reenactment included readings from two witnesses,  Mary Beth Quigley and Beth Savage. The reenactment was an imagined idea of what people would believe happened if only seeing the reliquary sculpture. In the original performance people came together to cut onions and cry. The re-enactment brought people together, this time watching me as I chopped onions and then consumed a bulb. We came back to the gallery and I read from the Onion Cellar chapter in Gunter Grass' The Tin Drum. The audience was then invited to explore the entirety of the exhibition.
Here are some images from the event: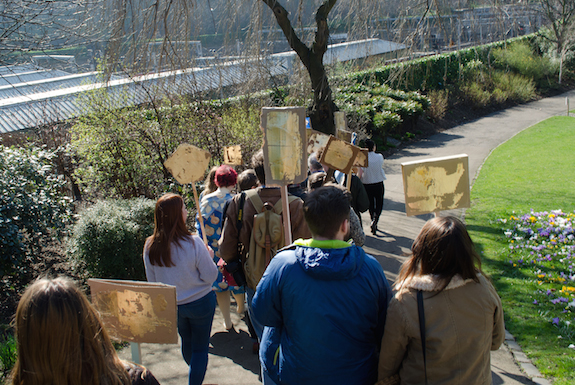 The Procession.
Marybeth Quigley as witness.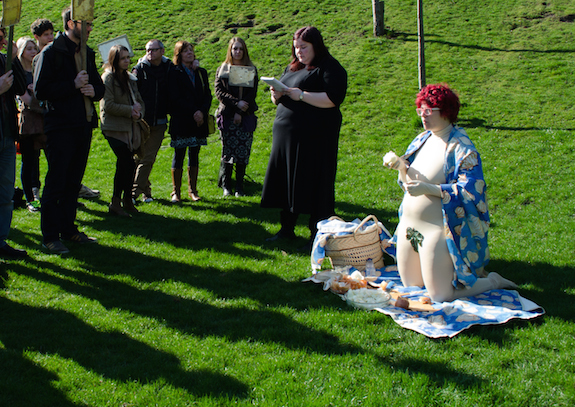 Beth Savage as witness.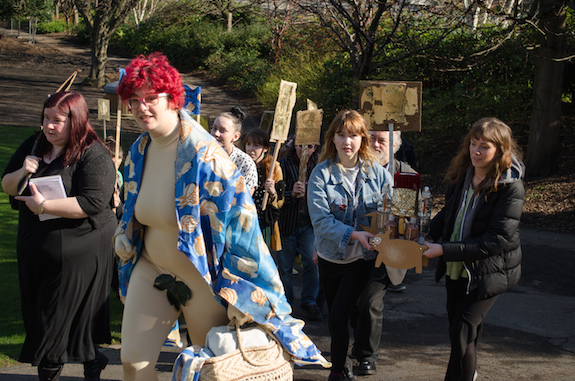 Reading from the chapter Onion Cellar in Gunter Grass' novel The Tin Drum.